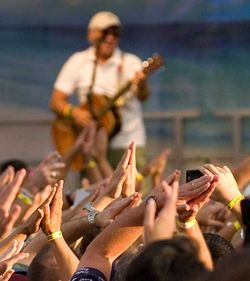 Ever since LandShark Lager was born in one of the world's greatest places to party, Margaritaville, legendary beach bashes have been popping up all over the map. One of the biggest? Canada, of course, or – as we like to call it – Margaritaville North, where resilient Canucks party outdoors all year round, welcoming every refreshing LandShark as if it were a golden message in a bottle. You may need to work on your tans, Canadian friends, but your taste in beer is fin-tastic!
LandShark Lager is a golden island-style lager brewed with subtle hop notes to keep it easy to drink and amazingly refreshing. It's about good times, good friends, good food and a great beer.
Fins up!
Margaritaville Classic Margarita
Find that fabled lost shaker of salt and unwind with one of the most popular, beach-friendliest cocktails in the world. Freshly squeezed lime juice, tequila and just a dash of Triple Sec make this perfect over ice or straight from the can.